Advisory Council Business - Cemetery Oversight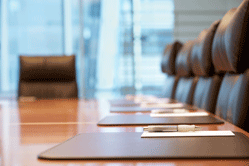 ADVISORY COUNCIL MEMBERS
The council is composed of 12 members appointed by the secretary of Labor, Licensing and Regulation and includes five consumer representatives:
J. Michael Bennett, For-Profit Representative-Cemeterian
Kaija Dallessandro, Crematory Member
Yvonne Fisher, Consumer Member
Clayton (Clay) Hashimoto, Consumer Member
Craig Huff, For-Profit Representative-Cemeterian
Erich March, For-Profit Industry Cemeterian
John (Ron) Pearcey, Nonprofit Member
Colleen Perret, Consumer Representative
Frank Porter, Chair, Consumer Member
Walter Tegeler, Monument Company Member
David Zinner, Consumer/Religious Member
Vacant, Consumer Member

Deborah A. Rappazzo, Executive Director
Public Meetings
The Advisory Council on Cemetery Operations is required to meet at least four times per year to advise the secretary of Labor, Licensing and Regulation and the executive director on issues related to the regulation and administration of the office. Interim meetings will be scheduled as needed. The meetings are held at 500 N. Calvert Street, Baltimore, Maryland 21202 in the 3rd floor conference room at 10:00 a.m., unless otherwise posted. All meetings are open to the public.
Thursday, January 25, 2018
Thursday, February 22, 2018
Thursday, March 22, 2018 (CANCELLED)
Thursday, April 26, 2018 (CANCELLED)
Thursday, June 28, 2018
Thursday, July 26, 2018 at (LOCATION CHANGE) March Life Tribute Center, 5616 Old Court Road, Baltimore, MD 21244. Meeting starts at 10:00 a.m.
Thursday, September 27, 2018
Thursday, October 25, 2018 Mount Olivet Cemetery, 515 S. Market Street, Frederick, MD 21701. Meeting starts at 10:00 a.m
Thursday, December 6, 2018
Winter weather policy for advisory council meetings - effective 1/1/2018
If Maryland state government has liberal leave or is closed due to inclement weather, or Baltimore City Public Schools are opening late or closed, the advisory council Meeting for that day is cancelled. The advisory council Meeting will reconvene on the next regularly scheduled meeting date.