Maryland Occupational Safety and Health (MOSH) - Division of Labor and Industry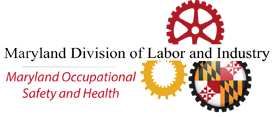 To translate this page, select from the following menu
MOSH's mission is to promote and assure workplace safety and health while reducing workplace fatalities, injuries and illnesses. MOSH achieves its mission through various means, including inspections, consultation services, compliance assistance, outreach, education, and cooperative programs. By accomplishing our mission MOSH saves lives, enhances the quality of life of working people, and contributes to the economic vitality of the State.
Special Announcements
Annual Reporting and Posting of Occupational Injury and Illness Data
The OSHA recordkeeping site details requirements for recording occupational injuries and illnesses. Certain employers are required to annually post and report this data. These include:
Each February through April, employers with 10 or more employees must post the OSHA Log 300A summary of the injuries and illnesses recorded the previous year.
Employers in certain industries are required to report their OSHA Log 300A summary data to OSHA's online injury tracking application. Employers are required to report may begin to submit the previous calendar year data beginning on January 1. The deadline to submit is March 2.
Heat Stress Proposed Regulations
Heat Stress
Title 5, Subtitle 12 of the Labor and Employment Article, Annotated Code of Maryland, Chapter 308, Laws of 2020 (House Bill 722) – Heat Stress Standards, requires the Commissioner of Labor and Industry, in consultation with the MOSH Advisory Board, to develop and adopt regulations by October 1, 2022 to protect employees from heat-related stress in the workplace.
Educational and training materials, including a free heat safety tool app from the National Institute of Occupational Safety and Health (NIOSH) can be found here: https://www.cdc.gov/niosh/topics/heatstress/default.html
OSHA Heat Stress Information and Materials
Overview of MOSH and Consultation Services
This video provides an overview of MOSH and our free Consultation Services
Report a Fatality/Imminent Danger
Business Hours: 410-527-4499
After Hours: 1-888-257-6674
Resources
MOSH is one of 28 OSHA-approved State Plans, and is funded with federal and special funds.  Section 18 of the OSH Act encourages states to develop and operate their own job safety and health programs.
MOSH staff develop and propose rules and regulations, with the assistance of the MOSH Advisory Board, to prevent injuries and occupational diseases in every occupation or place of employment in Maryland.
MOSH has jurisdiction over all public and private sector workplaces in Maryland with the following exceptions:
An employee of the federal government or its units
An employee whose occupational safety and health is protected under:

The Federal Mine Safety and Health Act of 1977
The Longshore and Harbor Workers' Compensation Act
The Atomic Energy Act of 1954
MOSH works to improve the safety and health of Maryland's workforce in both the public and private sector by:
providing consultation services
offering outreach and educational programs
establishing partnerships
setting and enforcing standards
encouraging continual process improvement in workplace safety and healthy

MOSH Contacts

Administration/General Information
410-527-4499
Consultation
410-527-4472
Operations
410-527-4447
Outreach
410-527-2091
Research & Statistics
410-527-4469
Region I :Eastern Shore counties
410-819-5860
Region II: Industrial Hygiene all MD counties
410-527-4442
Region III: Baltimore City, Baltimore County south of Shawan Road
410-527-4426
Region IV: Allegany, Frederick, Garrett, Montgomery, & Washington counties
301-791-4699
Region V: Anne Arundel and Howard counties
410-527-4458
Region VI: Calvert, Charles, Prince George's, & St. Mary's counties
301-883-3317
Region VII: Baltimore County north of Shawan Road (Hereford Zone), Carroll, Harford, and Cecil counties
410-527-4434
---
Division of Labor and Industry
Maryland Occupational Safety and Health (MOSH)
10946 Golden West Drive, Suite 160
Hunt Valley, MD 21031
Phone: 410-527-4499
Fax: 410-527-4481
e-mail: MOSH.Complaints@Maryland.gov
Directions to the Hunt Valley Training Center