Taking the Exam - Public Accountancy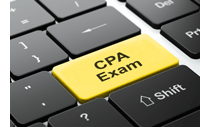 NASBA/AICPA announce score release dates for summer and fall CPA examinations.
Special Announcements
CPA EXAM SCORE UPDATE: NASBA has recently undergone system changes, which have caused technical difficulties and a delay in uploading exam scores. NASBA is aware of the problem and is diligently working to correct this issue for Maryland CPA candidates. Exam scores will be made available as soon as the problem is resolved. Thank you for your patience.
Please note: NASBA is undergoing system maintenance and will not process exam applications until after March 1, 2018. We will continue to accept applications submitted prior to March 1st - however, the applications received from February 16, 2018 to March 1, 2018 will be processed on or after March 1, 2018. Therefore, the Notice to Schedule will not be provided to exam candidates until after that time. Thank you for your understanding.
The Board will only be accepting applications from individuals who have graduated from a college or a university and have earned at least a baccalaureate degree on or before today's date.
Applicants must request that transcripts include the type of degree conferred and the date of graduation.
Listed below are the services available to applicants and qualified candidates, and information about the Uniform CPA Examination.
FIRST TIME APPLICANTS/REAPPLICATION FOR EXAM QUALIFICATION
Maryland CPA Examination Fees
| | | | | | |
| --- | --- | --- | --- | --- | --- |
| | AUD | FAR | REG | BEC | TOTAL |
| HOURS | 4 | 4 | 4 | 4 | (ALL 4 PARTS) |
| COSTS | $208.40 | $208.40 | $208.40 | $208.40 | $833.60 |
EXAM QUALIFIED CANDIDATES
INTERNATIONAL TESTING FOR NON-U.S. RESIDENTS
Application and Registration Information
INFORMATION FOR EVERYONE
CPA Exam Score Review

CPA Exam Score Appeal
The AICPA and NASBA report the examination scores to the Board on a candidate-by-candidate basis and by examination section. The Board notifies each examination candidate by e-mail when each exam score is received.
Note: Passage of the Uniform CPA Examination does not mean an individual is licensed to practice certified public accountancy. Successful candidates must meet business-related education and qualifying practical experience before qualifying for licensure. To check whether an individual is licensed by the Board, check the CPA License Search on this website.